Haven't ordered my cactus yet but gave it a good test drive. The lack of a rev counter worried me a litte, especially since the engine is rather quiet and I was surprised I was already at max rpm once. Haven't driven a turbo engine in a while and the 110 HP petrol engine really does have a rather flat torque curve from 2000 rpm up so it's hard to judge when you're actually maxing it out. Some people around here (Munich, Germany) have the habit of going full throttle when you're doing a lane change in town right as you go in front of them... as if they wanted to push you out of their lane. So having some rpm reserves available really helps. Same for highway overtaking, I don't wanna hurt that little engine by pushing it too hard, especially when it's not heated up yet.
Solution: OBD2 heads up display:
You plug it into the green diagnostics port (under the steering column) and it displays the information from the CAN bus, things like engine RPM, coolant temperature, battery voltage, etc. You put it on the dashboard and the light bounces off the windscreen and you have it right in your field of vision so you don't have to shift your vision to know what's up.
There's ones that display more information, but usually with quite a delay or updating only once every half second or with just one LED per 1000 rpm (i.e. useless). This "X3" model cost me 19€ shipped and does all I need. horizontal rpm bar on the top (accurate and fast enough to be useful) and some bar graphs for water temp and battery voltage. You can also have it beep at you if you go over a a set speed or rpm (that's what the other bar graphs are for). You can calibrate the rpm and speed readings, defaults were spot on equal with the dials in the car but you can also adjust it. You can press the button on the side to have the bit digits show either speed (kph or mph), water temperature (°C or °F) or battery voltage. It turns on and off automatically by the way.
Now the cool thing about the cactus is the LCD display above the steering column. It's nice and shiny and I think it should reflect light just right. on the top right, above the shift indicator, it doesn't really show anything besides the check engine light. I think you could mount the X§ HUD unit on the steering column in a way that the rpm bar reflects on the top right of the dash, i.e. above the shift indicator. just block out the stuff you don't need on the X3 with masking tape and boom, there's your rev counter and water temperature.
If that doesn't work, you can also put it behind the dashboard LCD and have it reflect off the windshield. Or you could just stick it behind the LCD so just the rpm bar sticks out either on top or to either side of the display if you don't mind having the little markers be in reverse writing.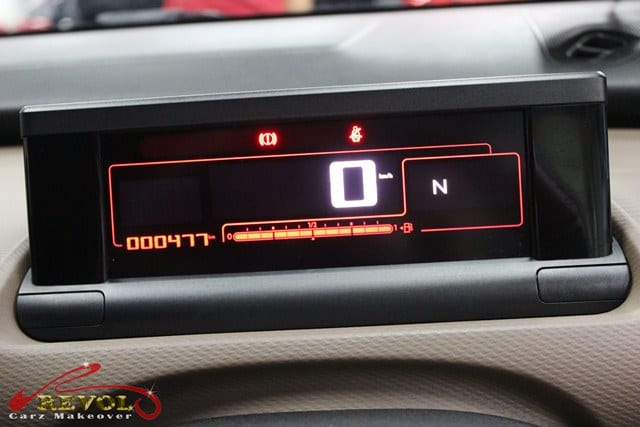 Here's a good review video of that unit and I must say, I'm very impressed with mine, works great even when it's quite sunny outside:
https://youtu.be/hw3qp97Gp7g
There's also the X6 which seems to have a similarly good response time and rpm resolution. RPM display is round and adds a consumption meter as well.:
https://youtu.be/7LzDh0S8YGE
Here's an example of a bad one, way too much info, distracting colors and updates the information only every half second
https://youtu.be/cfUmRj976qE
If you try this out on your cactus, please post pictures of the different mounting options. If the cover over the OBD port doesn't fit back because the OBD plug is too thick, go get an extension with plat plugs on eBay or Amazon: